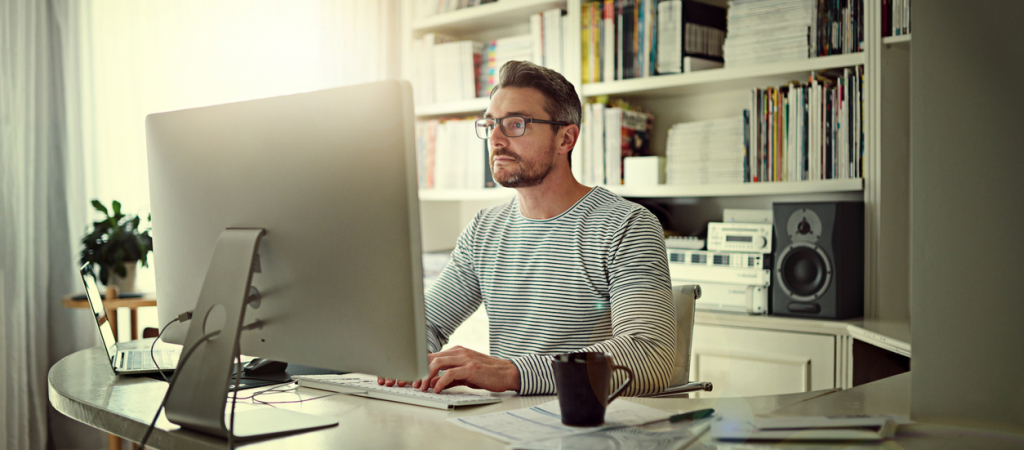 Mental Toughness is the choice – the attitude – of staying in inspired action despite the circumstances surrounding you.
JPAR agents our productive! Working out of our 49 locations across the US, including our Texas brokerage operations where we have 26 locations with 105 private offices and shared community workspaces. I thought it timely and important to write about our "new normal" of working from home during this time of social distancing.
While there are many disruptions during the coronavirus outbreak, it's essential to manage our attitude and mental state. In my view, mental toughness is the choice – the attitude – of staying in inspired action despite the circumstances surrounding you.
As a real estate professional, you are all used to working from a home office, so this blog could be a great reminder for you. For others, as businesses and organizations respond to the COVID-19 pandemic, many of us will be working even more from home. There can be a great deal of additional stress that accompanies the transition to working from home.
Here are a few tips that can help ease the transition or increase the likelihood that you're able to balance productivity with your other responsibilities:
First, set precise working times
To the extent possible, try to maintain your typical working schedule. If you typically work from 9 am-5 pm when you're in the office, then try to keep that same schedule when you're working from home. Now many of my readers are self-employed entrepreneurs… yes, this applies to you. Our number 1 coaching request is dealing with BURN-OUT. Work expands to the time you give it… set your boundaries. Remember the last time you went on vacation and how much you accomplish the day prior? Take that approach to work daily!
Second, maintain boundaries
Maintain clear work-home boundaries. While all in the same space, be intentional about keeping work, home, or school boundaries. Consider this, use time blocks – have a clear off time where you're done working for the day. As much as possible, don't let your work spill over to your time away from work. Even in real estate, this is possible…does your lawyer, CPA and other professionals who handle critical matters work 24/7? No… they don't and neither should you unless you are committed to burn-out.
Third, maintain a virtual connection with others?
Working from home can be an isolating experience. Maintain contact with others by scheduling virtual lunch breaks or coffee chats. Find ways to connect and keep in communication with your others to avoid feelings of loneliness. What about a virtual mastermind group? You can continue your weekly small group meetings video conference or FaceTime.
Fourth, stay hydrated, proper nutrition, and take breaks
This point seems like a no-brainer, but the reality is it can be easy to lose track of time and to forget to engage in daily self-care (like drinking enough water, eating regular meals, and getting enough exercise). Set break times and stick with them. Get up and walk around, stretch, and consider taking 5-minute mindfulness breaks every few hours. Your mobile device probably has built-in reminders or popular apps that are available for your mobile device… there is an app for that! Search your device or your favorite app store.
Fifth, maintain a daily to-do list
For some, working from home can feel overwhelming. Focus on what needs to be done each day by making a daily to-do list. Focus on prioritizing each task each day. I've found real estate professionals work best with a "daily action checklist." A powerful list of all the must-dos for that day, week, or month. Don't forget some type of daily cardio. Consider these seven actions
FaceTime or call someone you haven't talked to for a while.
Pray or meditate more.
Write a gratitude list, thank you notes, or thinking of you notes.
Walk or hike more; visit a new park.
If able, give, or volunteer more. If not, encourage someone who can.
Read, write, create something.
Play a new game or an old favorite in your off time.
Sixth, make your home office space work for you
If you have a home office space, use it! If not, consider ways that you can create a workspace that will support your work from home situation. Separate work from your bedroom or spaces where you typically relax. If you have to work in your bedroom, at least make some space outside of your actual bed to do work. From a wellness perspective, mental health professionals, so it's often important as much as possible to have a clear distinction between working spaces and spaces that are intended for relaxation.
Set Your Space Up for Productivity.
Reduce, Remove or Eliminate Your Distractions.
Get Comfortable.
Invest in Light Exercise Equipment.
Declutter Ruthlessly and Often.
Take Eye Breaks.
Work with Purpose.
Seventh, reduce distractions
Consider how to remove distractions from your home office environment. That means having a clear boundary for your professional work and your personal work with the associated time blocks. For many readings this, that could mean turning off the TV, your news, and Facebook notifications. For others, having some background noise like classical music or ambient soundtracks can be helpful. It is also important to consider how you'll maintain your distraction-free work environment if you have a spouse, roommate, partner, children, or pets who will be in your space during your work hours. Talk with all your housemates about work boundaries and how to ensure distraction-free areas so that you're able to focus on your work. You can also use these tips for working from home with children around. Have a family meeting to discuss the new schedule and boundaries that will help the family during this time.
It's never been more important to stay connected and avoid being isolated. Besides your circle of influence, many groups our offering assistance on-line for those experience higher levels of stress or coping challenges. Reach out there is a world of help within reach.
And a bonus tip from my sister… after reviewing my draft she sent me "you should add this: dress for work rather than being too informal. You are more productive when you dress for work instead of dressing as if you're lounging around for the weekend."
?